WiQuest is a leading fabless semiconductor company that develops compl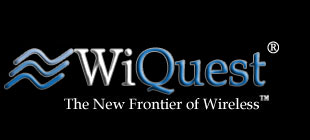 ete solutions for the emerging ultrawideband (UWB) market. WiQuest's products are designed to comply with the WiMedia Alliance specifications for Wireless Personal Area Networks (WPAN) as well as for Wireless USB applications. WiQuest is a Contributing member of the WiMedia Alliance and an Adopter Member of the USB Implementers Forum. The WiQuest team are industry experts with proven track records in the design and manufacture of high speed wireless OFDM communications systems and bring that recognized expertise to this market. WiQuest was founded in 2003 and is headquartered in Allen, Texas, a suburb of Dallas.
WiMedia Ultrawideband Technology
WiMedia-based UWB technology enables universal, high-speed, short-range wireless connectivity between many types of digital products. UWB enables the continued migration to high-speed wireless digital communications by specifically addressing the need for a very high-speed, point-to-point wireless connectivity solution. The key benefits of ultrawideband are:
Replacement of the expensive and unsightly cables used to connect consumer entertainment and computing products with a single, low cost, wireless connection.
Extremely high performance streaming media and file transfers.
Simple and easy process to connect devices with each other.
WiQuest is enabling the emerging multi-billion dollar UWB market – "The New Frontier of Wireless™" – with products that capitalize on the WiQuest team's proven record of building innovative, cost-effective, low-power chipsets.